email signup
Sign up for hire & camping shop special offers, campsite tips & news
user pic of the month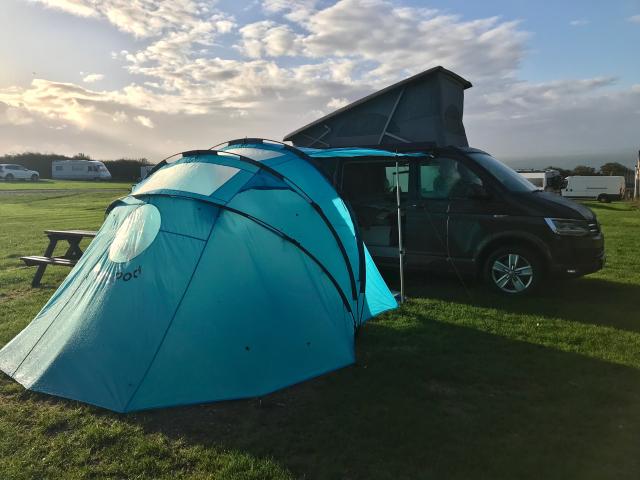 Nicholston Farm Campsite, Gower Peninsula
campsite of the month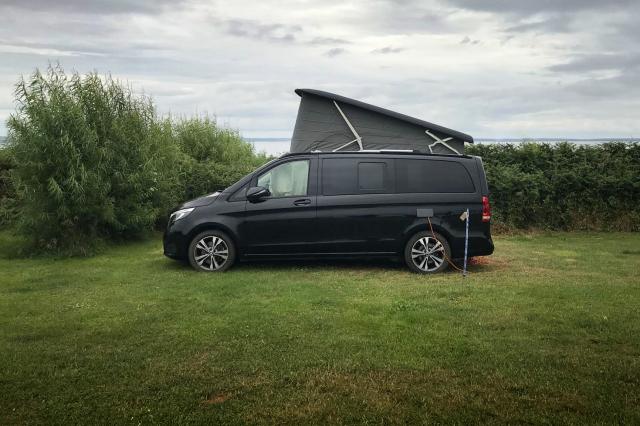 Glan Y Mor. St. Davids Pembrokeshire
AWNINGS, SUN CANOPIES, FITTINGS AND RAILS
BRANDRUP Variotent Kabrio Oriel 100 400 011
Delivery may take up to 10 working days

VARIOTENT® KABRIO ORIEL

VARIOTENT can be enlargened with a spacious oriel.
The oriel offers an additional large space for sports and hobby equipment, bikes, motorbikes or a dog. In rain, children have a protected area to play. The mounting is very simple: put up the middle part of the right tent side wall; next, the individual oriel walls are attached with zipper, conected to each other and guyed to the ground – ready!
With more than approx. 13 m², VARIOTENT plus CABRIO-ORIEL offer the absolutely biggest interior space! Also the oriel adapts to your storage space. Packing sizes can varrie. All side walls can be put up, even five at the same time. Thus, you always can have shade independent of the position of the sun.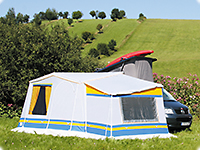 Each oriel wall can be used as awning or removed individually. Each oriel wall can be used individually, e.g. you can put up the side wall of the tent (roof of oriel) and attach as many oriel walls for wind protection as you want or/and put them up as additional awnings etc.. In addition, the front wall of the oriel can be rolled aside which creates a further and very large entrance at the front.
A further unique function of VARIOTENT for vehicles with normal roof: the back wall can be put up as an awning and used as a carport for vans/ cars. Even the side sluice adapts this function. And you can move the car at any time.
This function is especially of advantage for Multivan (UK: Caravelle), Caddy and passenger cars with large capacity.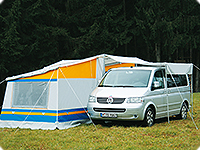 The oriel roof can be rolled aside like a convertable top!
Thereby, the oriel walls can be put up or completely closed if you want to sunbathe in the wind's eye.
This open court yard is also useful for cooking: vapours and odours evaporate quickly.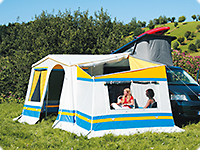 The windows with integrated mosquito net have an additional plastic protective cover which can be closed, rolled or put up.
Design: "Reflex Silver/Red Gold/Sea Blue".
VARIOTENT is best quality: Made in Germany.