email signup
Sign up for hire & camping shop special offers, campsite tips & news
user pic of the month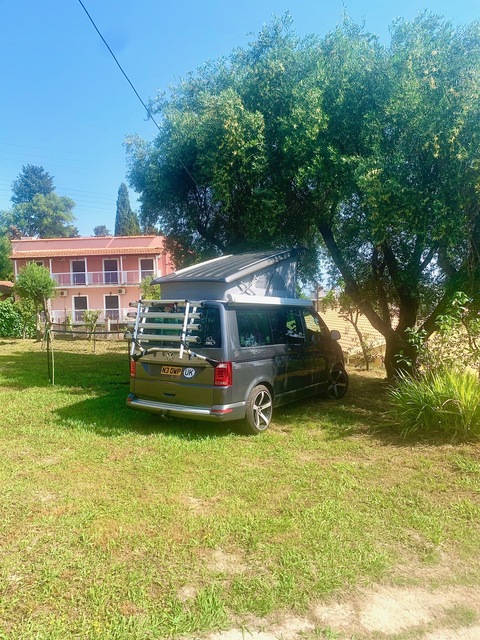 Corfu, Greece
campsite of the month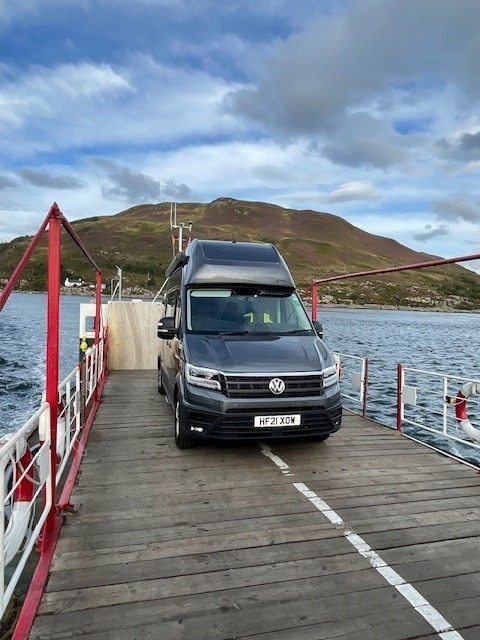 Ferry to Skye
Prices and Availability
Pick-up times:
Monday: 13:00 - 16:00
Tuesday - Friday: 09:00 - 16:00

Drop-off times:
Monday - Thursday: 09:00 - 16:30
Friday: 09:00 - 13:00

Weekend hires usually Friday - Monday
Pick-ups and drop-offs available outside of these hours on request.
| | Daily Rate |
| --- | --- |
| January | From £115 |
| February | From £115 |
| March | From £135 |
| April | From £135 |
| May | From £150 |
| June | From £155 |
| July | From £155 - 7 Day Minimum |
| August | From £165 - 7 Day Minimum |
| September | From £135 |
| October | From £135 |
| November | From £115 |
| December | From £115 |

Hires of less than 7 days are charged at a higher rate.

4 Wheel Drive Deluxe Oceans are available. From £20 per day in addition to the above rates

Long Hire Rates:
3 weeks + up to £20 off per day
7 weeks + up to £40 off per day
10 weeks + up to £55 off per day

Prices may fluctuate within months due to events and holidays.
For an accurate quote click
here
AVAILABILITY NEWS

This week
Call 020 8291 6800 or start an Online Booking
December
Good Availability
January
Good Availability
February
Good Availability
March
Good Availability
Easter Weekend
Good Availability
Easter Holidays
Good Availability
April
Good Availability
May
Good Availability
TERMS OF HIRE
All prices are fully inclusive with no hidden extras. All hires are calculated on a 24 hour basis


NORMAL PICK-UP AND RETURN TIMES:
Campervans can be hired for a minimum of 3 to 90 days.

Week hire - flexible pick up and return subject to availability.
Long Weekend breaks - Peak periods, Friday pm pick up and Monday am return. Off peak same time pick up and Monday same time return. Bank Holiday returns are usually Tuesday.
Mid-Week breaks - Flexible.
Extra Days - can be added to any hire, subject to availability.
24 hour hire - is subject to availability, please call to discuss your requirements.

Hires that return on a Friday or before a Bank Holiday must be returned in the morning, before 11am.
"Try before you buy" packages include instruction and purchase consultation with follow up advice and support. Subject to hire and purchase price full or part hire costs can be reclaimed when buying through one of our affiliated dealerships, (terms apply).
Our nearest Campsite is Crystal Palace (Tel: 02087787155, within 2 miles), please call for details.
We endeavour to be flexible and alternative days and times may be available, please contact us to find out.
DEPOSITS
£250 or 20% for hires over two weeks, this is non-refundable and is required to secure your booking
BALANCES
Balances are due within one month of hire commencing and are not then eligible for refund in the event of cancellation or curtailment, we recommend that customers obtain adequate holiday/travel insurance in the event of any unforeseen circumstances.

Optional extras are charged for no more than a two week hire with the exception of European upgrade.
HIRE EXTENSIONS
Should you wish to extend your hire then this may be possible but you must contact us giving as much notice as possible so we can confirm availability, additional charges will apply for late returns at the daily hire rate.
One way rentals are possible and must be agreed and paid for in advance of hire. Please contact us for a quote.
ADDITIONAL DRIVERS
Additional Drivers are charged from £5 per day each, subject to insurance approval.
EUROPEAN TRAVEL
To travel to Europe we charge an additional fee of £15 per day which includes European insurance cover, roadside assistance and legal compliance (spare bulb/fuse set, warning triangle, high visibility vests, first aid kit, fire extinguisher.)
INSURANCE
Insurance is provided by Alan Boswell Insurance and in the event of any damage to either the vehicle or third party property the hirer will be liable for the first £1,000, per occurence. The hirer will be liable for replacement or repair of windows or tyre damage and accidental/negligent damage to the vehicle, fittings and equipment.
INSURANCE CONDITIONS
The prices quoted are for drivers between the ages of 25 and 75 holding a driving licence for at least two years with no accidents or endorsments. Drivers under 25 (minimum 23) or over 75 will be subject to an insurance excess of £1,500 subject to approval by insurers. Drivers outside these conditions will be considered but there may be additional charges. Please call to discuss. Drivers with 6 points or more may incur an insurance surcharge, please call for a quote.