email signup
Sign up for hire & camping shop special offers, campsite tips & news
user pic of the month
Derrynane, Kerry Ireland
PRESS / EVENTS
CamperVanTastic at the 2014 Camper & Bus Show
23 Jun 2013
0 Comments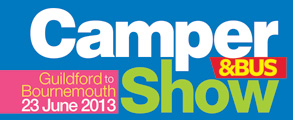 We had a fab time with our latest VW California SE and Beach on the beach at the 2013 Camper&Bus Show. Come back next year in 2014 and check out what;s hot!

This is an exciting new cruise and show from the people behind Camper&Bus and VWt magazine.


The show will involve a night's camping in Guildford on Saturday 22 June 2013, then a cruise* (75miles) down to Bournemouth on Sunday 23 June 2013, where a parking spot will be reserved for you on the seafront. You will line up with 100's of other VW owners along one mile of seafront using Bournemouth beach as your backdrop.
Just metres from the golden sands of the the Bournemouth beach and with no roads to cross or barriers to climb, you will have an un inturuped view out to sea.
The seafront show will include Traders, live music, kids entertainment and a host of other beach activities for you to enjoy from early morning until late afternoon
Tickets for those who wish to participate in the run and be a part of our line-up along Bournemouth seafront are now on sale at http://volksworld.ipcshop.co.uk/shop/one-page-shop/camper-bus-show-tickets
The cost of your ticket includes camping at Guildford entry for one vehicle and as many people as you can squeeze into your ride, participation in the cruise, entry to the sea front line up and show plus a goody bag worth £20.00
The details are still being finalised and there is much to do. Visit www.vwcamperandbus.com/show for more information or contact Adrian Vaughan with any queries.