email signup
Sign up for hire & camping shop special offers, campsite tips & news
user pic of the month
Harbor Side Caravan Site, Maryport
campsite of the month
Alfriston, East Sussex
BRANDRUP Isolite Inside Cabin Windows Mercedes-Benz Marco Polo V-Class (2014 –>) 102 701 211
In summer, the solar heat is reflected outwards. The interior reflecting lamination preserves the cold air inside the vehicle longer. In winter, ISOLITE reflects the cold outwards and the warmth back into the interior: "Isolated flask effect"!

5 Peices including small triangular section on front windows.

ISOLITE Inside is introduced into the windscreen frame and simply attached to the upper black stripe of the glass and around the interior mirror with velcro.

ISOLITE is not only hung to the window pane but is fixed to the window frame with velcro. By this, a perfect sealing on three sides is achieved. The enclosed air (between window pane and ISOLITE) cannot circulate and escape upwards (summer) or downwards (winter). The entire surface is always densely closed.

With ISOLITE nobody can see you from the outside: the cabin is completely "opaque".

ISOLITE is quickly attached and can be stored on the bed of the pop-up top.

Made in Germany.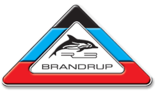 See all Brandrup products