email signup
Sign up for hire & camping shop special offers, campsite tips & news
user pic of the month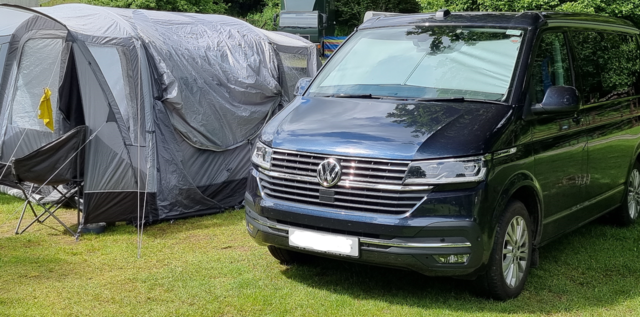 Camping in the forest, Queen Elizabeth forest, Trossachs, Scotland
campsite of the month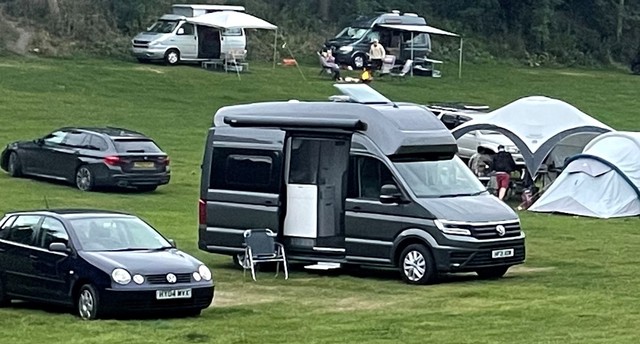 Alfriston, East Sussex
VAN ESSA VW T6.1/T6/T5 Ocean/Coast/Beach (2-seater) Storage Bag for the Rear Window
Use this corner of your van as valuable storage space. Our VanEssa window bag organizes, darkens and insulates at the same time.

The pocket is specially shaped for the original California two-seater bench so that the bench can be moved upright to its rearmost position.

They are placed in the rear passenger window and fill this in completely due to the exact dimensions. The assembly time is only a few seconds due to the simple attachment. Thus, the bag can be removed very quickly and easily in everyday life. With the attached handle, the pannier can also be used flexibly outside the van. You can pack the bag conveniently at home.

The bag is placed in the rear passenger window and holds up by itself. It is stabilized by a rear wall, which is clamped into the sun blinds.

The original panniers were invented by VanEssa mobilcamping in 2013 and have been continuously developed since then (quality, fastening, design).

The original panniers in this design are manufactured by VAUDE exclusively for the company VanEssa mobilcamping and are only available here, which means the highest quality and the use of sustainable materials. The bags are odorless.

Colour: LIGHTGREY with ANTHRACITE piping, suitable for the paneling of the T5 / T6 / T6.1, back wall anthracite with embroidered VanEssa mobilcamping logo.
ANTHRACITE with LIGHT GREY piping. Please select colour.

Weight:
2.8 kg

Packing volume:
approx. 47 ltr.
Maximum load 20 kg

Suitable for the following models on the passenger side:
- VW T5 / T6 / T6.1 California Beach with 2-seater bench (from Facelift 2010)
- VW T5 / T6 / T6.1 California Comfortline / Ocean / Coast with 2-seater Bench
- VW T5 California Beach before Facelift 2010, without paneling: with additional

Fastening:
- self-standing in the rear side windows through stable rear wall
- above: rear wall stiffens between window and sun blind
- T5 without cladding: additional fastening required.