email signup
Sign up for hire & camping shop special offers, campsite tips & news
user pic of the month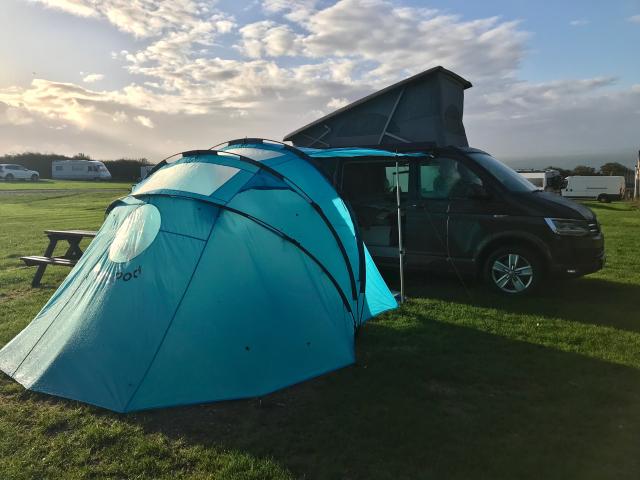 Nicholston Farm Campsite, Gower Peninsula
campsite of the month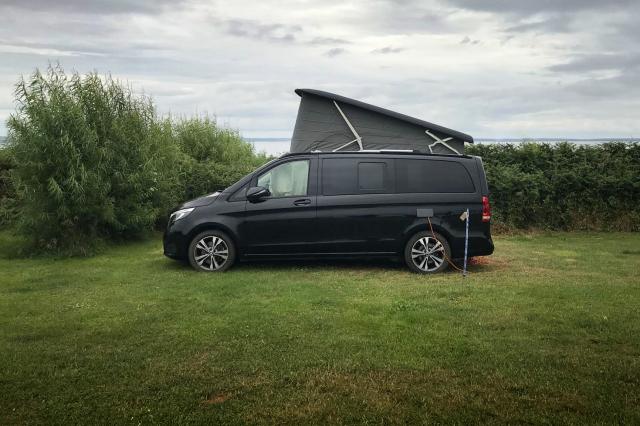 Glan Y Mor. St. Davids Pembrokeshire
Snocks - Winter Traction Aids, Snow Socks for your VW T5 and T4 Campervan 14' - 22" Wheels see list
Compatible with vehicle's equipped with ABS and ESP. Only use Snocks for their intended tyre sizes - listed below. These are not legally recognised in all countries across Europe. In some cases Snow Chains are required. On vehicles with four wheel drive the product should be mounted on all four wheels. The 'Snocks' also known as 'Snow Sock Winter Traction Aids' are an elasticated device that encases the wheels with a durable, specially woven fabric that provides traction on un-cleared snow covered roads, they are ideal for getting off a snow covered driveway or car park, or up a hill when traction from the tyres alone is insufficient. They are also useful in Europe for winter driving holidays, but not as a substitute where Snow Chains are required. Designed for front; rear and four wheel drive formats and should be applied to only the relevant drive wheels – 2 snow socks are included, one for each wheel. Covered by a two year warranty. They are recommended only for use at low speed - Max speed 25Mph (40Kph). They are simple to fit, easy to store in your campervan and supplied in a durable bag. They are a winter must have.They are simple to fit, easy to store in your car and supplied in a durable bag. Legal and approved for use in the UK.

NOT legal for use when snow chains are legally required in mountainous regions such as France, Germany, Sweden, Switzerland, Norway, Italy, Austria, and Andorra.

Fits the following tyre sizes but please check your tyre size before ordering.
14" tyre size:
205 R14
205/80 R14
215 R14
215/75 R14
15" tyre size:
195 R15
195/75 R15
195/80 R15
205/75 R15
205/80 R15
215/70 R15
215/75 R15
225/65 R15
225/70 R15
235/70 R15
255/60 R15
16" tyre size:
175/80 R16
185 R16
185/75 R16
185/80 R16
195 R16
195/70 R16
195/75 R16
195/80 R16
205 R16
205/70 R16
205/75 R16
215/65 R16
215/70 R16
225/60 R16 Factory size for VW California 130ps and 140ps
225/65 R16
235/60 R16
235/65 R16
245/55 R16
245/60 R16
255/55 R16
255/60 R16
17" tyre size:
205/65 R17
215/60 R17
215/65 R17
225/55 R17
225/60 R17
235/55 R17 Factory size for VW California 174ps and 180ps
235/60 R17
245/55 R17
255/55 R17
255/50 R17
285/40 R17
18" tyre size:
215/55 R18
225/55 R18
235/50 R18
235/55 R18
245/45 R18
245/50 R18
255/40 R18
255/45 R18
265/40 R18
275/35 R18
275/40 R18
19" tyre size:
235/45 R19
245/35 R19
245/40 R19
245/45 R19
255/35 R19
255/40 R19
265/30 R19
275/30 R19
275/35 R19
285/30 R19
265/35 R19
20" tyre size:
245/30 R20
255/30 R20
265/30 R20
285/25 R20
285/30 R20
21" tyre size:
245/35 R21
275/30 R21
285/30 R21
22" tyre size:
265/25 R22
285/25 R22