email signup
Sign up for hire & camping shop special offers, campsite tips & news
user pic of the month
Camping in the forest, Queen Elizabeth forest, Trossachs, Scotland
campsite of the month
Alfriston, East Sussex
TOPPERS, SHEETS, PILLOWS & BEDDING
BRANDRUP iXTEND folding bed for Mercedes-Benz V-Class Marco Polo (2014 –>) 102 709 004
The folding bed is extended over the bed and offers more comfort whilst sleeping - the division of the individual parts is chosen in a way that the edges of the 2-seater bench are not noticeable. The flame-retardant foam can be removed if the original Marco Polo fabric cover needs to be cleaned.

The iXTEND folding bed consists of three parts and can be stowed on the rear board of the Mercedes-Benz Marco Polo (2014 –>). If required, it can be unfolded easily.

All iXTEND folding beds can be flipped over and folded to the backrest of the 2 seater bench of the Mercedes-Benz Marco Polo. Practical also to use as a storage area for luggage on the rear cushion but also as an easily reachable baby bed or a big lying area for a dog.

The iXTEND folding bed for Marco Polo has a standard mounting for easy fixation on the headrests of the backrest.

Two pieces of iXTEND can be folded to the backrest and be fixed on the headrests.

The lower area is firmer, so that all edges, gaps, joins and even the safety locks of the bench are covered and not seen. The upper area is softer, so that the foam adapts well to the body and supports it comfortably.

Dimensions: 204 x 111 x 7cm

Design: "Santiago Black".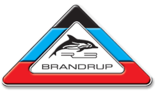 See all Brandrup products