email signup
Sign up for hire & camping shop special offers, campsite tips & news
user pic of the month
Camping in the forest, Queen Elizabeth forest, Trossachs, Scotland
campsite of the month
Alfriston, East Sussex
TOPPERS, SHEETS, PILLOWS & BEDDING
BRANDRUP iXTEND folding bed mattress for T6.1/T6/T5 CALIFORNIA OCEAN/COAST
iXTEND Volkswagen T6.1 California: approx. 115 x 202 x 6.5 cm.

T6.1 Colour: Palladiumn Grey

iXTEND Allround folding bed VW T6.1 Ocean/Coast (usage with and above the serial rear cushion); VW T6 California Ocean/Coast (usage of the bed extension only in the lower position); VW T5 California Comfortline (usage of the bed extension in the lower and upper position); design VW T6.1 "Palladium"


The folding bed is extended over the bed for more comfortable sleeping. The individual parts are designed in order to cover the edges and even the safety locks of the 2-seater bench.
Removing the foam, the cover fabric can be washed. Both cover and foam are flame resistant. The bed consists of three parts and can be stored folded on the rear board.
When required, it can be easily unfolded forward.
The new iXTEND folding bed has a standard mounting for easy fixation on the headrests of the backrest. Two pieces of iXTEND can be folded to the backrest and can be fixed on the headrests: To be used as safe baby bed, or downwards and forwards for a padded lying area for pets as well as for luggage.
All iXTEND folding beds can be flipped over the bench rucksack in order to achieve a large storage space or lying area.
All iXTEND folding beds have a new foam:
Constructed from a combination of cold-cure foams, which adjusts to weight and surface below. The lower area is firmer, so that all edges, gaps, joins and even the safety locks of the bench are covered and unnoticed.

Made in Germany.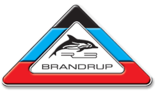 See all Brandrup products